Technology is transforming or even overtaking almost everything as we step further into the future, including the Human Resource industry.
Previously, I have written about the state of HR Digital Transformation and why it is useful for HR professionals to embrace digital change.
But such questions like "Do we have what it takes to embrace such change?", "Are we able to keep up with the pace of change?" still remained.
Until I attended the HR & Learning Show Asia 2019.
Although I was one of the 500 exhibitors (approximately), I too was amazed by the vast range of latest technology solutions available to help us embrace HR digitalisation.
This shows how humans are constantly adapting and shaping our own evolution.
It was indeed an eye-opening experience for me, especially since it was my first ever exhibition during my internship.
1. Highlights
a) All under one roof
The exhibition was not only a giant show floor showcasing hundreds of new HR and learning workplace solutions and live demos but a place where engaging and charismatic speakers of well-known companies share about HR Tech and Digital Innovation in HR too!
Who are the list of speakers? They include the CEO/Co-Founder of Xero User Magazine, David Hassall, the Director of Singapore National Employers Federation, Shaun Hou and even a Lecturer from the University of Newcastle, Vahid Biglari.
David Hassall

Shaun Hou

Vahid Biglari
b) Network beyond Singapore
To spice up things up, the event was opened to everyone across Asia and attendees such as Cambodians and Philippinos actually flew down just to attend this rare first-hand experience.
Enabling exhibitors of both big and small companies to widen their network even beyond Singapore's border.
A hard to come by opportunity where you can meet speakers and exhibitors with business and technology acumen.
This shows how massive and impactful the event is, to be able to bring people from all across Asia together.
c) Digitalisation/ Transformation of Exhibition/ Networking
HR & Learning Show Asia 2019 is organised by Terrapinn. It's slogan "Spark Something", indeed describes their creativity and innovations in running events, inspiring and transforming business.
Why? Well, one of the unique features of the event was that Terrapinn had its own mobile app which enabled us, both exhibitors and visitors to exchange contact information/ business cards just by scanning a QR code.
Basically, encouraging card-free.
Home page of App

Contact page after scanning name tags

How the name tags w QR code look like
Which I personally like the idea as I have never seen such a feature in events before. And it does actually make it more convenient and hassle-free for us to exchange 'business cards'.
Imagine just going around with your mobile phone, not having to carry around a stack of name cards, nor go through the hassle of taking your card out. How carefree would it be?
Also, what I love most about this idea is that it is environmental-friendly. #savetheplanet #savetheearth
Yes, business cards can be recycled. However, a lot of resources were already used to create them. So lesser business cards = lesser trees cut down. #savetrees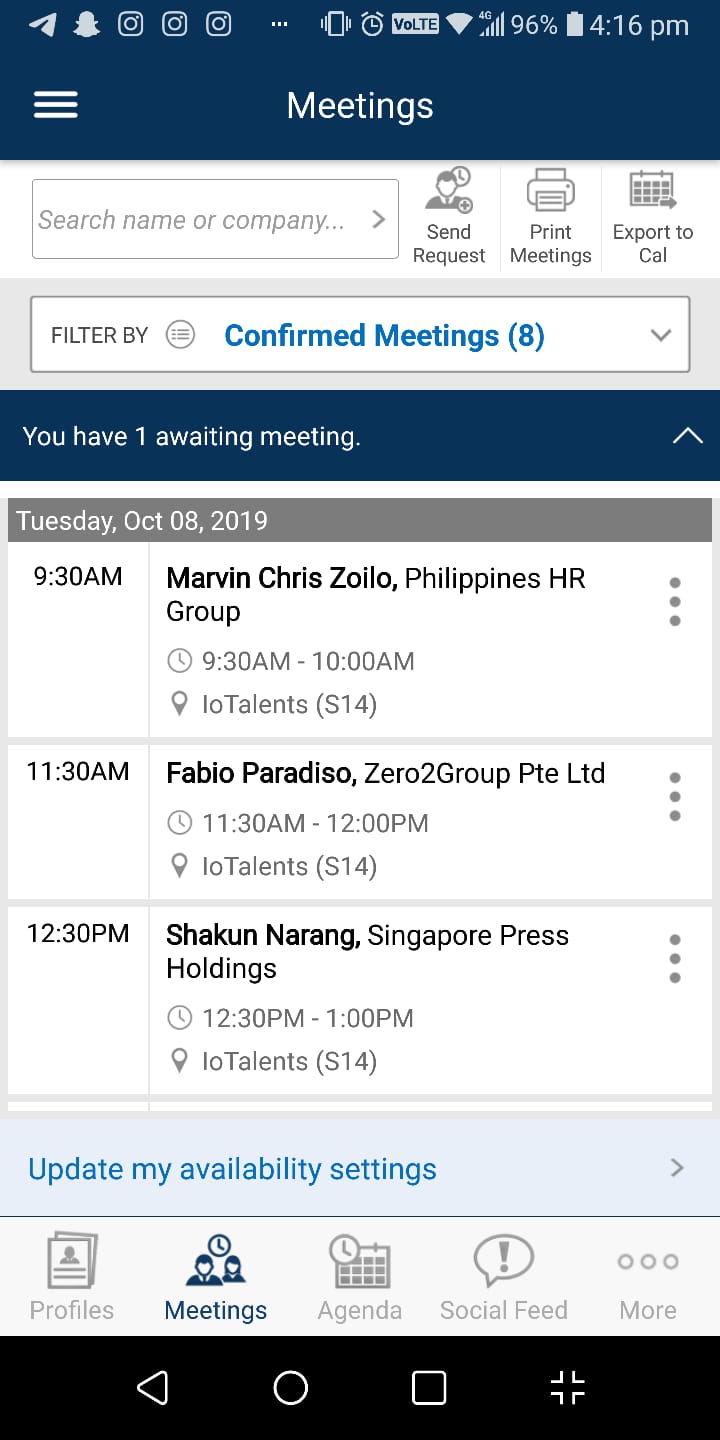 What's more, the Terrapin system even enables you to send out meeting invitations to exhibitors or visitors. A function which was really useful in raising awareness of our presence at the event and increasing traffic to our booth.
2. Takeaways
a) Teamwork is Key
Okay so just like any regular first-timer, especially an intern of the company, I was feeling nervous and worried. My heart was hammering but I kept my facial expression calm and relax, smiling as I gave brochures out and explained to professionals about IoTalents' services and products.
During those two event days, I was the face of the company and I had to attend to customers queries. And every time I take the initiative to talk to customers, I prayed that they will not ask difficult questions that are beyond my current capabilities of answering.
Thankfully, the event attendees were very friendly and most importantly, I had a wonderful and reliable team with me, saving me when I face difficulties and teaching me as I go.
Our team unity and proactiveness made our company's presence more noticeable and was even complimented by other companies near our booths.
b) Interactions with Attendees
Through this event, I was made cognisant on what most companies are currently facing and the types of digital solutions they are interested in.
Summary of conversations with attendees (point form):
For those going through retrenchment period, we offered our Jobs007 service to them, a job portal but with a little twist to it as compared to the usual, traditional job portals like JobStreet.
Yes… all job portals are similar in enabling users to easily find and apply for their dream job. However, for Jobs007, that little twist I mentioned, will transform the job search experience into a rewarding one.
The reason behind this is our feature of social recruitment via referrals, which uses the mass referral effect.
As they say, great people know other great people.
With Jobs007, not only can it help you find jobs you want quickly with our automated, in-built job matching system that matches you to top 20 jobs based on your skillset and profile. But your friends or family can be referred to a job too!
"Why would I even refer jobs to them?", you might be thinking. Well, first thing first, obviously is because you saw something that will suit them, and you will be thinking why not just let him/ her give it a try.
But the thing that will actually grasp your attention is that once they apply, you stand a chance at earning attractive rewards, like… Money.
Well, if they do get the job of course.
c) Events Expand Network, Build Connections
Network. It is something that is requisite in every part of our lives, especially in the business world. Through networking, more connections are built. Through connections, more genuine partnerships or friendships is forged.

Benefits of networking:
Raises the company's personal profile
Identifies opportunities for partnerships, joint venture, areas for business expansion
Generates more referrals and potential clients
Keeps company up to date with the constant changing target market and trends
Helps to gain more advocates and extend reach
Opportunity to expand knowledge, based on viewpoints and prior experience of others
One of the new networks forged is HeartVoice, a joint venture between Japan Omron Healthcare Co. Ltd, and Singapore iAPPS Pte Ltd. 
Despite being in different industries, we were able to click pretty well and even exchanged phone numbers for future purposes. I guess events are not only for business networking but for making friends too.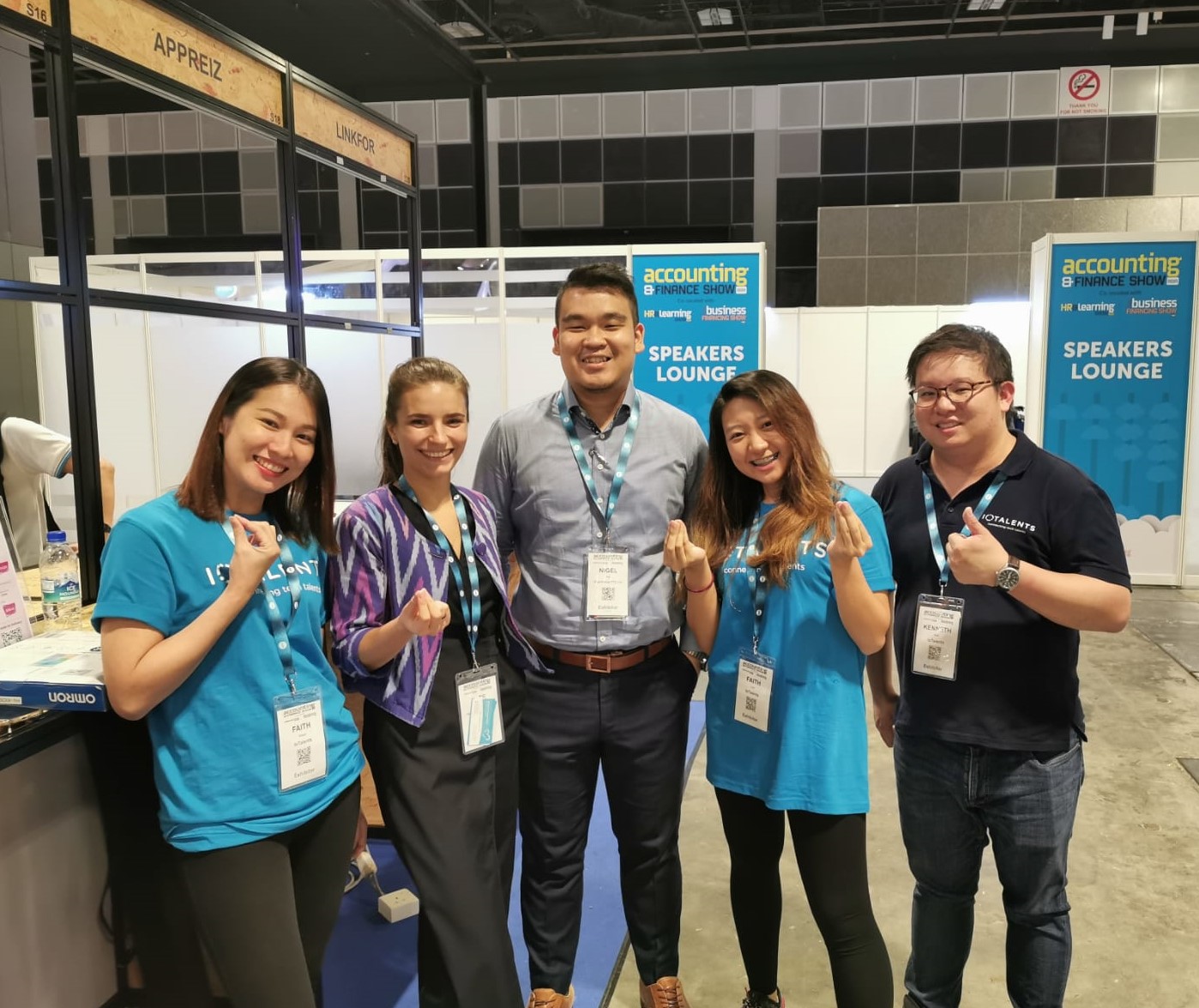 All in all, it was a fruitful event indeed.
Missed us at the event? Don't worry, just click on the links below to find out more!
General Info: https://www.iotalents.com (Official Site)
HR Concierge: https://www.iotalents.com/hirers/concierge
HR Technology: https://talenlytics.ai/
Jobs007 Social Recruitment App: https://jobs007.io/